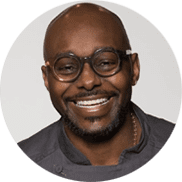 Chef Richard Ingraham was born and raised in Miami, Florida and became a culinary enthusiast at an early age. His culinary training took place at the Art Institute of Atlanta. A few years later, he was offered what is now his current position as Private Chef, for Dwyane and Gabrielle Wade. He has been responsible for the nutritional diet that keeps the celebrity couple fit, toned, and healthy.
In 2010, he leveraged his world-class training and passion for fine cuisine into a culinary-business partnership with Soley Gonzalez and created a network of Private Chefs called ChefRLI. The company has served dozens of NBA, NFL, MLB, and Entertainment clients across the country. Some notable current and past clients include: BET, Sean Combs, Yonder Alonso, Manny Machado, Olivier Vernon, John Wall, Gregor Blanco, Chris Bosh, Novack Djokovic, Ricky Jean Francois, Kelly Rowland, Reshad Jones, GOYA Foods, POMI Italia, National Pork Board and Blake Griffin.
In the fall of 2017, Chef Richard Ingraham published his first inspired-living cookbook titled "Eating Well to Win." The book seeks to evoke a peak performance lifestyle for the aspiring athlete trying to build muscle, housewife trying to cook balanced meals, and the young professional working 70 hours per week.
Community Involvement
Ingraham joined Michelle Bernstein and Michael Schwartz in former First Lady Michelle Obama's

Chefs Move 2 Schools White House Initiative

to encourage healthier eating habits. 

As GOYA Foods' My Plate Ambassador and Partner Chef he is tasked with promoting alternative cooking methods to parents of school-aged children. 

ChefRLI combined its charitable efforts with

Beyond the Boroughs Scholarship Fund

Founder and NFL Vet Tutan Reyes, to provide healthier eating options to kids in New York City. The

Ben and Sarah Gibson

Culinary Scholarship was created as a result of the partnership to help high school graduates attend culinary school. 

Ingraham is also an esteemed Advisory Board Member of the Miami Culinary Institute and Chef Start.
---
Richard L Ingraham Jr
Chef RLI LLC
Location: Woodland Hills CA
Instagram: ChefRLI
Website: www.chefrli.com